MARLEN PROMANN


HCD / UX / InfoVis / CSCW
I use human centered design and experimental methods to study and design human experiences with the increasingly data infused products and socio-technical systems
that support our everyday life.
︎
__________________________________
ABOUT

SOCIAL TECHNOLOGIST
UX & DESIGN RESEARCHER

I seek to understand technology mediated human percpetion, decision-making, and behavior in order to design, build, and evaluate user experiences, human-centered products, and socio-technical systems that deliver positive social and sustainable impact.
#medium is a message
AREAS:
User Centered Design (UCD)
User Experience Research and Design (UX)
Information Visualization (InfoVis)
Computer Supported Cooperative Work (CSCW)
Computer-Mediated Communication (CMC)

METHODS:
Heuristics・Surveys・Usability・Interviews・Think-alouds・Contextual inquiries・A/B tests・Controlled experiments・Crowdsourcing・Guerrilla tests・Eyetracking・Diary studies・Ethnography
APPLICATION AREAS:
Teamwork・Collaboration・Knowledge management
Sustainability・Education・Health・Well-being
・Politics・Civics・Community engagement
・Children・Autism・Accessibility・Wearables
・Situation awarenes・Cyber security

I am an Independent Interdisciplinary PhD
candidate in the departments of
Design
,
Computer Graphics Technology
and
Technology Innovation Leadership
at Purdue University. In my dissertation, I use experimental human computation and qualitative methods to explore how graph design affects peoples' social interpretations and cooperative behaviors. I am co-advised by
Dr. Cheryl Zhenyu Qian
,
Dr. Victor Yingjie Chen
and
Dr. Sabine Brunswicker
, from the three departments, respectively. I'm honoured to have
Dr. Leigh Raymond
(Political Science) and
Dr. David Ebert
(Electrical and Computer Engineering) as my PhD committee members. In 2016, I received a Dean's Graduate Research Award of Excellence from Purdue University, and in 2018 I was awarded the Bilsland Dissertation Award. My research is supported by the NSF, Purdue Discovery Park, and the Office of the Executive Vice President for Research.

I received a
MSc in Media and Communications
from the London School of Economics and Political Science (LSE), where I trained in social scientific research methods and applied visual analyses to study how cause-advertising mediates as public moral education. At LSE, I was advised by
Professor Lilie Chouliaraki
, a leading scholar in humanitarian communications.

I am fortunate to have worked at a number of great research firms (e.g.
Human Digital
) and labs including
NASA's Visualization Studio
in Greenbelt, MD,
Whirlpool
's Global Design in Benton Harbor, MI, and Indiana Government's
Management

Data Hub
in Indianapolis, IN. Currently, I am a senior user experience research consultant at Purdue's User Experinece Group for a Fortune 500 automotive company.

My work has been published in peer-reviewed publications in IEEE, ACM, AIS and AAAI venues. Please see my

publications

on
Google Scholar
and
ResearchGate
.

TEACHING
PHILOSOPHY

"A mediocre teacher tells, a good teacher explains, a superior teacher demonstrates, but a great teacher inspires" - William Arthur Ward

Teachers can profoundly influence the aspirations and future directions of generations. Since, students do their most engaged work when they tackle meaningful problems in challenging real life contexts, it is with active learning-through-doing courses complemented with interdisciplinary cooperative efforts that I can best support the excellence and growth of my students.
RESEARCH FOCUS
I approach technology as a mediating discourse between people and the increasingly data infused materiality. I use qualitative and experimental methods to investigate and design factors that enhance computer mediated communication, alignment, and collaboration in virtual or physical communities and teams.

As data-driven feedback and interactions are changing the way we make decisions, in my PhD dissertation I strive to understand how social data visualizations may help address fundamental societal needs. To this end, I design, build, and evaluate user interactions with data infused digital products that address issues of environmental sustainability, accessibility, social cohesion, and personal wellness.

My work covers the entire spectrum of user experiences: from utility and usability to desires, feelings and the mediating socio-cultural impact. I have examined these varying levels in a number of award-winning designs, including information visualizations (IEEE VAST 2013), assistive technologies (NordiCHI 2014) and consumer products (Whirlpool and GE).
"I think it is possible for ordinary people to choose to be extraordinary."
__________________________________
RESEARCH AREAS
_____
HUMAN CENTERED DESIGN (HCD): Empower Users
#ethics #transparency #empowerment #cooperation #user studies #autism #children #wearables #health #education


I marry my design thinking and social scientific research skills in my human centered design research approach, where scientific inquiry helps me identify user needs, desires and wants at an in-depth level, informing novel solutions that seek to achiev a more equitable, enjoyable and delightful world.


_____
HUMAN-COMPUTER INTERACTION (HCI): Technological Transparency and Cooperation
#design #mediation #user behavior #innovation #social politics #design thinking #transparency #cooperation #community
Questions about technological comprehension, access, and useablity are curcial to how humans interact with computers. My primary research in HCI is to understand how technology is perceived, understood and how it guides individual user behaviors. I investigate the human side of technology use to inform how technology could help people better understand novel technologies (e.g. AI, ML, etc.), and how it can support human communication and cooperation, weather in organic communities or more structured teams.
_____

INFORMATION VISUALIZATION (INFOVIS): From Situation Awareness to Behavioral Nudging
#infovis #visual design #social psychology #perception #theory-driven-design #crowdsourcing #controlled experiments #situation awareness #decision-making #teamwork #cyber security #community cooperation #sustainability

With the increasing prevalence of data based feedback, especially social comparisons, I theoretically derive and empirically investigate which chart and visualization features can increase social transparency, enhance teamwork and encourage cooperation in communities. These are curcial questions if we are to address the many challenges that we face as a society, such as sustainability, energy conservation, community participation, social inclusion, etc.
EnergyVis (PhD dissertation project)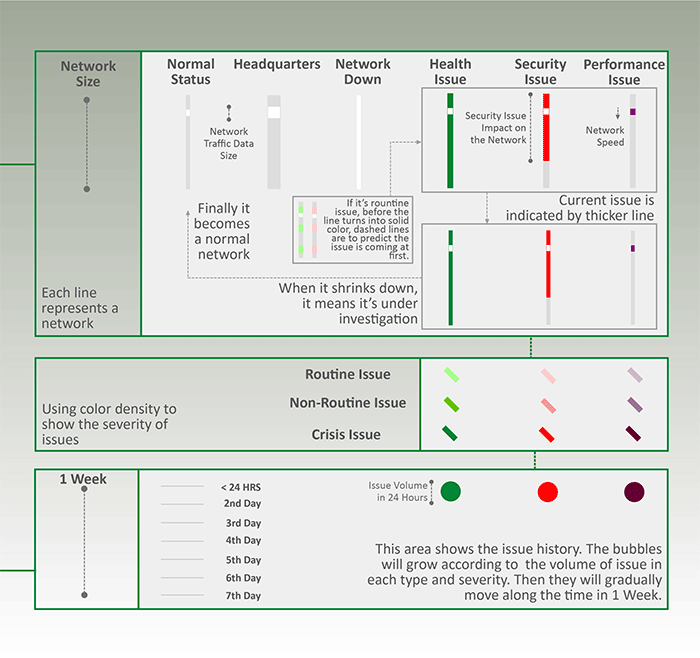 "Content precedes design.
Design in the absence of content is not design, it's decoration."
__________________________________

PUBLICATIONS
Please see full list on
Google Scholar
and projects on
ResearchGate
.
REFEREED JOURNAL ARTICLES
6. Promann, M., and S. Brunswicker (forthcoming)
"A Framework for Eco-Feedback Design For Home Energy Interactions"
ACM Transactions on Computer-Human Interaction
–
1st revision
[
paper][slideshare]
5. Zhang, T., Stonebraker, I., Promann, M., (2016)
"Understanding Library Users' Preferences and Expectations of Online Help"
References Services Review
, 44(3), 362-374.
[
paper
][slideshare]
4. Zhang, T., Niu, X., Promann, M., (2017)
"Assessing the User Experience of E-Books in Academic Libraries"
College and Research Libraries
, 78(5), 578-601.
[
paper
]
3. Promann, M., Wei, S., Qian, Z.C., and Chen, Y.V., (2015)
"The Role of Aesthetics and Perception in Raising Situation Awareness: Lessons from SpringRain"
International Journal of Human Computer Interaction, 32(4), 308-324.

[
paper
]
2. Promann, M., & Zhang, T., (2015)
"Applying Hierarchical Task Analysis Method to Discovery Layer Evaluation"
Information Technology and Libraries
, 34(1), 77-105.
[
paper
]
1. Zhang, T., Barnes, I.R., & Promann, M., (2014)
"Building Better Help: User Characteristics' Effect on Library Help Design"
Communication Design Quarterly
, 2(2), 21-28.
[
paper
]
REFEREED CONFERENCE PROCEEDINGS
12. Promann, M., Qian, Z.C., and Chen, Y.V., (work-in-progress)
"Designing for Children with Autism or their Caregivers? Finding Commonalities Among Stakeholders Through User Research"
ACM CHI Conference on Human Factors in Computing.
[paper]
10. Saenz, M.,Promann, M., Creager, A., and Rasche, N., (2018)
"Below the Interface: Evaluation of PLM Software Usability and User Self-Efficacy"
International Conference of Design, User Experience, and Usability (DUXU),
Las Vegas, NV, July 18-20. [
paper
]
9. Promann, M., and Brunswicker, S. (2017)
"Affordances of Eco-Feedback Design in Home Energy Context"
AIS Americas Conference on Information Systems (AMCIS)
Boston, MA, August 10-12.
[
paper
]
8. Promann, M., (2017)
"Fire in the Kitchen: The Campfire Empathy that Led to Innovation in Human Product Interaction"
International Conference of Design, User Experience, and Usability (DUXU),
Vancouver, Canada, July 9-14.[
paper
]
7. Promann, M., Qian, Z.C., and Chen, Y.V., (2016)
"Pitfalls and Potentials of Home Energy Monitoring System Design: a User Experience Perspective"
International Conference of Design, User Experience, and Usability (DUXU),
Toronto, Canada, 494-506. [
paper
]
6. Zhan, T., Niu, X. and Promann, M. (2016)
"Assessing the User Experience of E-Books in Academic Libraries: Search, Usage, and Information Finding"

Electronic Resources and Libraries (ER&L)
Austin, TX, April 3-6.
[
paper
]
JURIED CONFERENCE PROCEEDINGS
5. Promann, M. (2018)
"Examining the Role Visual Graph Structures Play in Collective Awareness and Cooperative Decisions"
ACM CHI Conference on Human Factors in Computing Systems, Montreal, Canada, April 21-26.
[paper] - FINALIST (top 6)
2. Chang, J.S., Lei, W., Wei, S., Promann, M., Ma, Y., Chen, Y.V., and Qian, Z.C., (2013)
"SolarWheels: an Interactive Situation Awareness Visual Display for Large-scale Computer Networks"

IEEE Vis Conference on Visual Analytics Sciences and Technology (VAST),
Atlanta, GA, November 9-14 [
project
] [
demo
] [
video
]
- WINNER (2nd place)
1. Wang, W., Promann, M., Ma, Y., Yang, B., and Chen, Y.V., (2013)
"A Real-Time Network Hosts Visualization System"
IEEE
Vis Conference on Visual Analytics Sciences and Technology (VAST),
Atlanta, GA, November 9-14.[
paper
]
- NOTABLE
MENTION
"Socrates said, "Know thyself."
I say, "Know thy users." And guess what?
They don't think like you do."